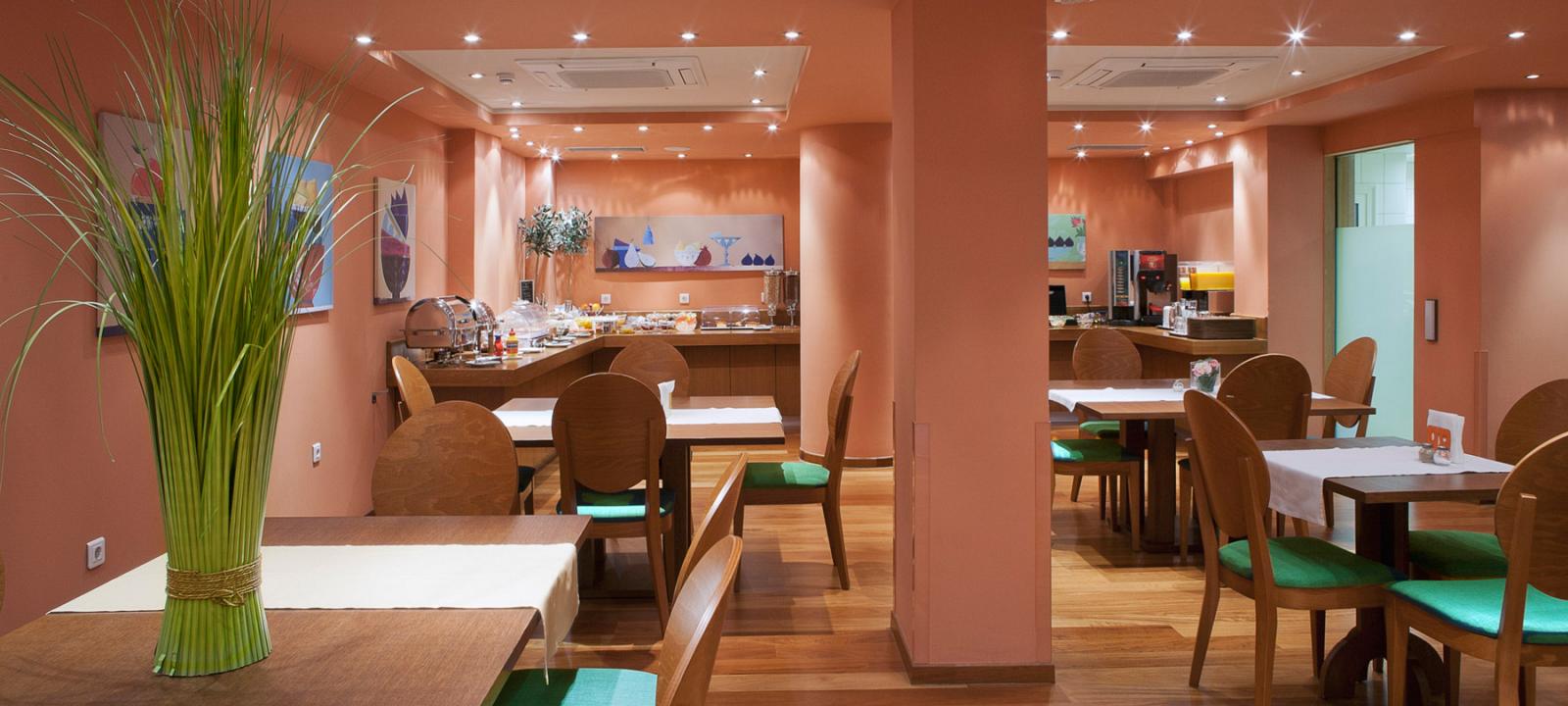 FACILITIES & SERVICES
A suitably
chic lobby lounge
serves coffee and tea in relaxing atmoshere after a long day in Athens' s interesting sites.
RESTAURANT
: on the first floor a
rich buffet breakfast
is served in a bright environment styled with the special touch of decoration from painter Corinna O'Brien. We offer American style and Greek delicaties: scrambled and hard boiled eggs, ham, sausages, selection of cheeses, serials, fresh fruits of the season, yogurt with honey, fruit salad, compote, croissants, cakes, home made jams etc. A Greek corner has a variety of quality local tastes. Breakfast room is open from 07.00 - 10.00 hrs.
The night shift can accommodate you on an early check out with continental breakfast.
Dinner is offered only for groups. There are plenty of tavernas and restaurants in the area of Plaka, Monastiraki and Psiri for the individual client who wants to experience a variety of tastes.
BAR
: Athens Center Square hotel, welcomes you to lounge about all day, but most visitors are here to visit the Acropolis, museums , galleries, the Parliament, the flea market and do their shopping. The
roof top terrace offers a panoramic view of the Acropolis, Lycabetus Hill, Phillopapou etc
. You will dream about writing your memoirs on this beautifull experience : Athens forever and ever...
INTERNET ACCESS:
There is free wireless internet access in all areas of the hotel. At the lobby of the hotel, there is a computer with a printer.
TRAVEL SERVICES
: Our travel agency can help you with your travel needs in Greece and organize sightseeing and day trips around Athens (visiting Acropolis, Archeological museum, Ancient Agora, Plaka area, Cape Sounion, Delphi, Ancient Corinth etc)
GUIDED TOURS:
Book in advance a private guided tour of the Archeological sites and Museums. Tours can be from 2 to 5 hours. Email us:
acs@athenshotelsgroup.com
TRANSFERS:
We offer private transfer by taxi, at an extra charge, booked at least 48 hours in advance by email:
acs@athenshotelsgroup.com
A new experience in town is
Bike Tours
. Please check this service:



In addition there is possibility for:
Doctor on call, laundry service, post service, baby sitting.
ATHENS CENTER SQUARE HOTEL
15 Aristogeitonos Str & Athinas
GR 105.52 Athens Greece
RSV Tel.+30 2103222706,
Hotel Tel. +30 2103211770
Fax. +30 2103211800,
e-mail:
acs@athenshotelsgroup.com
Privacy Policy